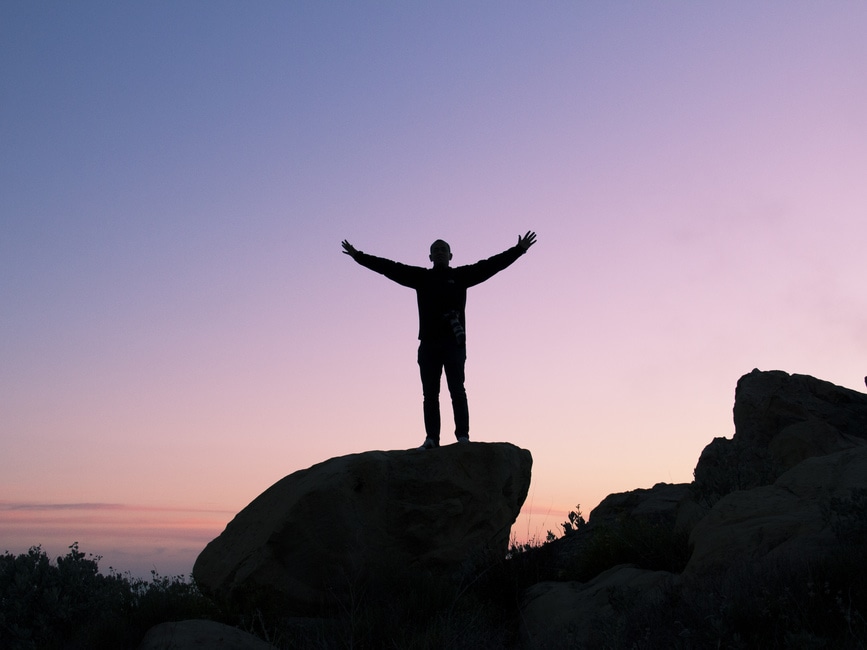 There are three little words that strike a chord of fear in many a writer's heart. No, not "no unsolicited manuscripts." A ... W ... P.
We know, we know. They're letters, not words, but if you've ever attended an AWP conference, you know what we mean. The hundreds of events, nearly one thousand exhibitors, and over 12,000 attendees can get a little overwhelming.
So how can you survive this year's AWP? Here are 13 ways.
1. Go easy on the panels
Let's face it: the panels at AWP can be hit or miss. Usually there's one heavy hitter while the rest are people you haven't heard of (although we're sure they're all fine writers). Plus there's only so much passive listening you can do before getting overloaded.
While you'll probably want to attend the sessions friends or colleagues are speaking in, there's no need to kill yourself attending them nine to five.
2. Talk to panelists outside of the panels
If there are particular panelists you want to speak to, Michael Nye, editor at the Missouri Review, suggests seeking them out during the conference rather than attending session after session.
3. Leave sessions early
Writer Leslie Pietrzyk votes for leaving a panel early if it's bad, and we wholeheartedly agree. Just try to be discreet about it.
You'll probably also want to leave before Q&A, unless you yourself have a question. The reality is many Qs aren't so much questions as recitations of the speaker's own accomplishments, and most panelists will be too polite to cut them off. Do yourself a favor and cut out early instead.
4. Carry the right bag
While it might be tempting to rely on free totebags, they might not be best for all the goodies you'll be getting, in which case you'll want to use a bag fit for comfortably carrying lots of stuff.
5. Use coat check
Speaking of saving your aching back, $5 per item per day for coat check may well be worth it.
6. Download the AWP app
Ditch that cumbersome paper guide and use AWP's nifty mobile app. It includes the most up-to-date conference schedule, a complete list of bookfair exhibitors, and maps of the venue and surrounding area. Not only that, you can save sessions and plan your own schedule.
7. Make use of hashtags
Twitter hashtags and AWP go together like tote bags and giveaways. During panels, add the tag #AWP16 so people can find your tweets of interesting quotes and amusing subtweets.
Your fellow attendees will also appreciate knowing if a speaker is killing it or if they're one to avoid. Moreover, making your tweets more visible with hashtags boosts your brand.
Hashtags work outside of sessions too. Have some downtime and want to chat with a fellow writer? Tweet your location with #AWP16 and you might meet someone new.
Conversely, click or search #AWP16 to see what other people are saying and to stay-up-to-date on all AWP happenings.
8. Talk to people
Social media is well and good, but sooner or later you should probably talk to someone.
While this may seem daunting, with over 12,000 writer-types in one place, chances are you're not the only introvert. Seek out an online friend you've never met in person. Tell that author you admire how much you loved her last book. Or make it a goal to talk to one or more new people a day.
Need more tips? Check these out from Writer's Digest and Huffington Post.
9. Bookfair like crazy
While the bookfair might seem overwhelming, it's really the place to be at AWP (and not just because Wet Ink will be there).
You'll get a lowdown on the literary landscape, seeing what others are up to and an idea of industry trends. You can also show your support to literary businesses by buying a journal or book.
Remember that goal of talking to someone new every day? Do it at the book fair, whether it's catching up with old friends, meeting an online buddy, or chatting up the editor of your favorite journal. And manning a table or booth gives people the opportunity to come to you, especially if you publicize your location on social media.
10. Drink lots of water.
It'll help remedy that famous AWP-hangover as well as save your throat from all the yakking. H20 is also great for preventing you from getting rundown and catching that post-AWP bug.
11. Detox and relax
Did you know you can do yoga at AWP? You can! You can also chill in the conference lounge.
12. Ditch the conference
Or you might want to consider ditching the conference all together, at least for a little while. Writer Patrick Ross suggests doing something unrelated to AWP. For instance, at Chicago 2012, Ross "checked out Millennium Park and took in The Bean," and "spent two hours perusing the Art Institute of Chicago."
Walking around a new city and checking out the sites is a great way to decompress and recharge during the madness that is AWP.
13. Visit the Wet Ink booth
Last but not least, be sure to visit the Wet Ink booth at the book fair! We'll be running some specials you don't want to miss.
Until then, let us know what you do to survive -- and thrive -- at AWP.